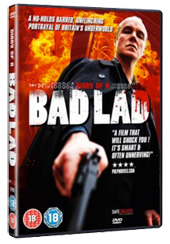 This is a feature film that I directed and edited. It has been shown at the Salford Film Festival, Kino Film Festival, Filmstock Film Festival, Cornwall Film Festival, Keswick Film Festival and the Melbourne Underground Film Festival.
It was officially released on DVD in June 2009 and has since been released in Hong Kong and Argentina.
You can purchase it from all good retailers (Play, Amazon, HMV, etc) via the following link: http://www.michaelboothfilm.com/buy-diary-of-a-bad-lad/
Plot: Film school tutor, Barry Lick, has been suspended on full pay accused of 'gross professional misconduct'. But he's got a spring in his step because it means he's just been handed the chance to try and make a sensationalist crime documentary which might just save his career. Even better he can do it all on the cheap; he's still being paid and there's ex-students out there who are willing to work for nothing more than empty promises. Barry's quest is going nowhere – that is until security consultant, Tommy Morghen, appears on the scene. And it's not long before Barry's plunged into a world of sub-prime mortgages, blackmail, corruption, coercion, stabbings, extreme German mutilation porn, castration, corpse disposal, gang-rape and, ultimately, murder. But what's Tommy's interest in all this? Is it that he just wants fame and notoriety, or does he have another agenda?
Barry puts questions like these to the back of his mind…
Genre: Crime | Status: Released (June 2010) | Sales Agent/Distributor: Safecracker Pictures | Certificate: 18 (UK) | Duration: 92 mins
Writer/Producer Jonathan Williams | Director/Editor Michael Booth | Director of Photography Paul Gordon

Diary of a Bad Lad Reviews
AV Maniacs Review – 4 out of 5
Set in a small town in the northwest of England, where a media studies teacher named Barry Lick (Jonathan Williams) decides that he should take his class of students and make a documentary that will bust wide open the town's secret criminal dealings. Lick is well aware that crime is running rampant in the small town and figures that maybe exposing it would do some good. They decide to follow around two 'businessmen' named Tommy Morghen (Joe O'Byrne) and Ray Topham (Tom Miller) who agree to let the students film them as they go about their business, all of which is quite seedy. Drugs and prostitution are a big part of the game as is pornography and Barry soon finds that he and his very inexperienced crew are in way over their heads and that these gangsters have got a few tricks up their sleeves. It all goes downhill from there…
The front of the DVD packaging proudly touts the fact that this movie was made "without compromise, about people without principles, by people without money" and that kind of sums up this low budget film quite well. It was made for under £4000.00 and was obviously never intended as any sort of attempt to find mass acceptance. Obviously inspired by Man Bites Dog, the film doesn't pull any punches in its attempt to bring us into the world that Tommy and Ray live in and thanks to some very strong performances all across the board, we can completely buy into the premise. O'Byrne and Miller steal the show as the heavies, but Williams is just as good as the teacher naïve enough to think that he could pull off such a project without any problems.
It's not just the leads who give their all here, however, as the supporting cast are fantastic as well. There's a scene in here in which Tommy forces a man who owes him money to fuck his wife in front of a camera in exchange for calling off the debt. He agrees and the man, standing completely naked and leaving nothing to the imagination, experiences some understandable performance anxiety. All of this is shown in a very matter-of-fact documentary style and it leaves nothing to the imagination – not a lot of actors would allow themselves to be put in that sort of situation but here James Foster allows director Michael Booth to film it in all it flaccid glory. How's that for commitment?
Had the script not been as tight as it is and the performances not one hundred percent committed and believable, Diary Of A Bad Lad would have been just another in the long line of no budget crime films that have flooded the market in the wake of Reservoir Dogs. Thankfully, the cast and crew's dedication pays off in spades and the film works far better than it realistically should have. The clever mix of cinema verite technique and the darkest of black comedy can make the film a harsh one in spots but this is absolutely a film well worth seeing. It rises above the limitations of its microscopic budget and succeeds in both entertaining and periodically disturbing its audience.
The Film – 4/5
The anamorphic widescreen transfer does a fine job of replicating the rough and tumble shot on the fly look that the filmmakers were obviously going for and which they cleverly use to their advantage. As such, clarity and detail comes second to realism and atmosphere. Don't expect a reference quality picture here, because that's not the point. The movie looks just like it should.
Video 3/5
The English language Dolby Digital 2.0 Stereo track is about on par with the video in that it feels like it was recorded on the fly, but again, it's all intentional and part of the game. The levels fluctuate here and there but generally things are clean enough and clear enough that you won't find much worth complaining about.
Audio 3/5
This disc has been loaded up with a ton of extras, starting with an extended in character introduction from Tommy Morghan. There's also a lot of deleted and extended scenes in here that are worth checking out as well as a documentary on the making of the picture entitled It's The Truth. On top of that, look for cast and crew biographies, a 174 page novel in PDF form (accessible via DVD-Rom), some amusing video diaries and an alternate commentary from Tommy. This material is all done in the same tone and style as the feature itself and it compliments the package really well.
Extras 4/5
Diary of a Bad Lad is rad, dad! A twisted, darkly comedic crime film the likes of which Guy Ritchie wishes he could make, it's a little rough around the edges in spots but never less than entertaining and frequently enthralling. The DVD looks and sounds about as good as it needs to and it has got a pretty amazing selection of extras as well.
Overall 4/5
DVD Release Date: June 28, 2010 Approximate Run Time: 90 Minutes Aspect Ratio: Anamorphic 1.78.1 Rating: Unrated Sound: Dolby Digital 2.0 Stereo Region Code/Format: PAL Region 0 DVD Released by: Safecracker Productions Retail Price: £15.99 Reviewed By: Punish on July 7, 2010
Originally published here: http://www.dvdmaniacs.net/review.php?id=1474
Pulp Movies Review by Paul Pritchard (4 out of 5 stars)
On the Pulp Movies website, Diary of a Bad Lad received 4 stars and later made the Movies of the Year 2009 list.
Frustrated film maker, Barry Lick (Jonathan Williams) has been suspended on full pay from his college lecturing job. Seeing this as an opportunity, he sets out to make a documentary about two local businessmen, Ray Topham (Tom Miller) and Tommy Morghen (Joe O'Byrne), who he believes to be involved in property rackets, prostitution, pornography and drug trafficking.
Recruiting a team of unemployed film students, Barry embarks on his project. However, it quickly becomes apparent that he is a lot less competent than he thinks he is. Topham and Morghen quickly realise that he is completely out of his depth and set about exploiting him for their own ends.
When you have an aspiring documentary maker who is much weaker than he thinks he is, trying to make a film about a pair of criminals who are more cunning and more ruthless than any of the film makers can begin to imagine, it shouldn't be revealing anything to say that it all ends in tragedy. The strength of this film, however, and what makes it such a fascinating and uncomfortable ride is the unforced and frighteningly believable way in which this tragedy is reached.
Everything comes together brilliantly, starting with the script. This quickly introduces the disparate cast of characters and sets them on their respective paths. Once this is done, and consistent with the mockumentary approach of the film, the narrative gives the impression of doing little more than gazing unflinchingly as everything unravels. Almost from the outset you can see that things are going wrong, and you can see how they are going wrong. You can also both see and understand that Barry is too obsessed with his one big film making chance to realise just how far out of his depth he is.
It helps of course that Jonathan Williams puts in such an effective performance that brings his character to life in a manner that holds your interest without appealing to your sympathy. In fact, the entire cast put in very strong, very naturalistic performances. It is striking that, even though none of these characters are particularly likeable, you are soon drawn into their world and, once the film gets into its stride, it remains utterly gripping right to the end.
The cinematography also deserves a mention. The film is shot on video and this approach gives it a very grainy look that not only adds a lot of authenticity to the events but also effectively captures the underworld sleaziness of the setting.
Diary of a Bad Lad is a powerful and effective films and one that is, by turns, both bleakly funny and uncomfortable to watch. It is also a remarkably intelligent film with much to say about the way in which the media often pursues sensationalism with little or no consideration of their complicity in the events they record.
This is a film that will shock you, make you laugh and, above all, make you think. It is a smart, well executed, and often unnerving film that is well worth seeing.
Original review can be found here: http://www.pulpmovies.com/2009/12/2009-its-behind-you/
MyReviewer.com by Curtin Owen
If Shane Meadows and Nick Broomfield teamed up to make a British version of Man Bites Dog, this would be the result: Filmmaker Barry Lick wants to make a documentary about local 'businessmen' Tommy Morghen. Tommy is more astute and cold-blooded than Barry first imagined and uses the filmmaker and his crew for his own devious enterprise. Because Barry is so preoccupied with his breakthrough film ('we got to keep filming'), he loses touch with his moral code and ultimately puts everyone's life in jeopardy.
It is impossible to distinguish between fantasy and reality in Diary of a Bad Lad; it is a film with genuine people, genuine moments and genuine locations. What makes this documentary-style thriller electrifying is we do not know what is constructed and what is natural as we delve into the abyss of the underworld – death, drugs, prostitution, pornography, property rackets, crime, violence and rape.
The stark realism, naturalistic acting and hand-held camera give this artificial documentary an exciting, fresh and provocative mood. This is cinema as insanity – Guy Ritchie and his fictitious east-end gangsters aint all that. This is northern brutality at its best and worst. This could be the future of British filmmaking (and it only cost five-thousand-pounds).
Also included with this DVD are blogs on the fictitious filmmakers, an extended intro, extra footage, video diaries, a featurette on documentary filmmaking, interview snippets with Mad Tony, a radio spot and if you put the DVD into a PC or laptop, you can access a 174-page Bad Lad novel and a written statement by 'gangster' Tommy Morghen.
For more information visit the website: www.badladthemovie.com
Originally published here: http://www.myreviewer.com/Diary_of_a_Bad_Lad_DVD_Review/a130829
Jonny's Cult Films Review – 8 out of 10
I was expecting yet another british gangster flick in the same vane as "lock stock" or "snatch" and a million and one other shoot off films but thats not what you get here!This is real raw film making at its british best, Barry is indeed super obsessed with having his big chance and you can almost see whats going to take place and along with the characters in the film who are his friends you just want to give him a slap and wake him up.
Great characters and strong performances from all throughout and i must say it definately is not for the weak hearted,basically if your easily offended then beware!
If this film had have been made back in the day of the old"video nasties"witch hunt times it definately would have been banned or severly cut,yep its raw,but great!
I did really like this one and was suprised by yet another gret british film as i was with the great "Resurrecting the street walker" again another bright future is in store i fell for the director"Micheal Booth"and indeed the writer/actor"Jonathan williams"
8/10
Originally published here: http://jonnyscultfilms.blogspot.com/2010/07/diary-of-bad-lad-reviewed.html?zx=7953e7ff3310b3a6
TCW Review by Clifford Kiyabu – 7 out of 10
The Story is about: A film about frustrated filmmaker Barry Licks attempts to make a documentary about a businessman, who he believes is involved in property rackets, prostitution, pornography, and the importation of recreational drugs. For security reasons Barry never uses his real name, and calls him Ray Topham. Barry recruits a team of young wannabees. Their quest leads them to two of Ray's associates; a local cocaine supplier and ex-S&M porn actress called Joanne Miller, and the charmingly psychopathic Tommy Morghen who acts as Ray's personal security consultant. They soon realize that Barry is out of his depth, and so they exploit him for their own purposes with both hilarious and tragic results. Diary of a Bad Lad explores themes of sex, drugs, violence, exploitation, and the desperate limits that people will go to in order to make a film.
My Thoughts: Are some people born… bad? These are the type of things I think about when the night strays off into the early morning hours, when my mind often wonders into the unknown, and while I will normally come up with a simple answer (Or simply make one up, whichever I prefer better) for most of the crazy things running in my noggin, I've always wondered, are there people who are just simply bad? The best answer I could possible come up with is yes, and no, of course. While I may believe that some people are simply bad by default, some are good people, quite good in fact who, put into the right circumstances in the right moment in time, can be corrupted into doing just about anything, including bad things; does this make them a bad person? No… does it make them cynical and easily corruptible? You betcha!
As many already know, it's no lie that I'm a hug supporter of the indie arts, aside from being a pretty big fan of international films of course (because mainstream doesn't seem to cut it anymore in the originality department now days.) So when I received in the mail a screener of the indie film Diary of a Bad Lad, which was sent to me by the good boys at Pleased Sheep Films over in the United Kingdom, I was thrilled to hear I'd be reviewing a film that is categorized in two of my favorite genres, because most of the film that hit's the states that is from Europe can hardly be categorized as "Indie", when a low budget film here in the US is easily considered big budget in some countries, so when I heard that an actual low budget indie film was hitting my neck of the woods my first reaction was purely shock and joy because this was a rare case indeed.
Well, after finally watching it what can I say, other than the fact it was an incredible film that proved to be very satisfactory: Well for starters the film was a real eye opener for me, because the film projects a surreal sense of the real world in the form of a mock-doc, which symbolizes the dark and gritty world that is all around us without us knowing half the time, things that are actually going on in the world this very minute. The dark and the gritty things people take for granted now days lurking all around us that is the criminal underworld, thinking to themselves that this type of stuff couldn't possibly happen to me, I'm out of the clear because I live in a good neighborhood, but you're wrong, you're never really out of the clear. Because just as the film shows, corruption and greed is everywhere especially in the least place you'd ever expect it. With a face to the gutter sense of dark humor that can only be compared as wickedly sinister with a lovely dash of black comedy.
What makes Diary of a Bad Lad such an interesting piece is the fact that this film was made with the idea of being as realistically as possible so that it would blur the lines between fiction and non-fiction. And to that extent, I found myself so deeply engaged into the film's plot that I at more than one occasion completely forgot I was watching a movie that plays out as a documentary and not an actual documentary.
Now though the film's style (filmed like an amateur documentary) has already been overly done in the wake of the post-Blear witch project, Diary of a Bad Lad still manages to take an idea that's been passed around more times than a groupie at a Rolling Stones concert and made it feel fresh and new again. Now that doesn't without saying the film is perfect and flawless, because the film does in fact have its fair share of problems that did knock it down a notch or two for me. One of the problems was that, the film fallows Barry Lick (Played by Jonathan Williams) and his team of amateur filmmakers on their journey to expose the truth behind a criminal master mind that they refuse to mention by his real name and only call by a nickname which is "Ray Topham" (Played by Tom Miller). The problem is in the film they mainly go through Ray's personal security consultant Tommy Morghen (Played by Joe O'Byrne) and an ex-S&M porn star named Joanne Miller (Played by Donna Henry) for the material they need for their documentary, the problem I had was that my understanding while watching the film was that Tommy Morghen is the main focus of the plot since he seems to be the one with the most answers, and yet I felt there simply wasn't enough time devoted to him and instead focused on other things that wasn't all that necessary. One scene particular that did this was the scene where Joanne invites Barry and his team over for a brief interview over her place, there wasn't anything wrong with showing the scene as it did help develop the characters into a more three dimensional stat, but I felt that the scene ran over stayed it's welcome after awhile and felt like it should have been cut a bit shorter. The other problem was, well it's certainly not a problem for me, but certainly a problem for those who aren't educated in British "slang". Like all countries, each nation and culture has its own set of slangs that many won't have a clue the meaning is. for example: if you where to take offense because someone walked up to you and asked if you had a fag they could bum off you, than obviously you don't know what the question they had ask you, which means you're even more likely not to understand half of what's said in this film.
As for the acting: the acting was very decent and very believable, aside from one cast member which didn't bold well for me I found the acting in general to be the center piece of the film because it hold a very strong sense of realism that looks and feels authentic at times. Jonathan Williams did a fine job in his role, and narrating of "Barry Lick". His portrayal of the character was humorous and yet entertainingly informative, one could easily argue that his portrayal was almost like watching a British version of Michael Moore but in an entertaining way and certainly not annoying. Joe O'Byrne and Tom Miller did fantastic jobs in the roles of "Tommy Morghen" and "Ray Topham", they give the right amount of arrogance and "street-smart" attitude to the characters that it comes off feeling very authentic. Donna Henry and Roxanne Gregory were great as "Joanne Miller" and "Roxy", Roxanne did a fine job in making her character come off looking and feeling young and innocently naïve, which works perfectly well for the film. Of all the actresses in this film, Donna Henry is the one that really stood out for me, because her performance was strong and demanded attention whenever shown on screen. The one performance I didn't care for in this film was none other than Paul Birtwistle, who plays the part of "Birty". I didn't care for his acting and found him to be generally annoying. Nothing against the actor in particular because I'm pretty sure he's nice down to earth fellow in real life, but onscreen I honestly did not care of his character in the slightest bit. Like I've said, the cast in general is fairly decent, and each and every person, no matter how small has something to contribute to the film.
Final Say: Diary of a Bad Lad was a very interesting film to watch, mainly because it's dark and witty sense of humor grows on you with time, and though the film does have its problems, it doesn't hurt the film significantly enough, but instead end up being a thought provoking film instead. Like a find wine, the film will begin to show its self worth with time, and though its bitter flavor is not for everyone, it's an acquired taste that will gain a cult fallowing in no time. Over all the film is something to look into, if only the reason is to see what all the fuss is about.
Rating: 7/10
Originally published here: http://www.tcwreviews.com/2009/10/review-diary-of-bad-lad-2009.html
Horror News Review
Straight from the UK market comes a new film that takes advantage of the pseudo documentary aspect. Barry Lick, a frustrated teacher and filmmaker sets out to create a film based on the underground crime scene. His Choice, a local seedy business man whom he cites under the fake moniker of Ray Topham to protect his identity. In the process he is introduced to Tommy Morghen who acts as Ray's security consultant. It begins as Barry and his makeshift film team dig into the locals who might be associated with Ray or have knowledge pf his dealings. At first it starts pretty standard with some clippings, some interviews and some commentaries from various sources who can comment a bit on camera. Though it doesn't take long for Barry to meet up with tommy who sets the whole turn in motion.
Tommy presents himself as professional but intense. Almost like you'd expect a Ray Liota role to transpire. While the documentary is based on Ray it's apparent after a while that Tommy is in fact the major player in this game. Their interactions begin with stops, visits and some on camera narrations that dig into the industry. This industry included prostitution, property racketing, pornography and drug trafficking. As Tommy explains in one scene…."one hand feeds the other". We soon find that there is a method to the madness, that involves a cunning exchange of services and needs.
When they visit a couple who can't make a payment, the couple is cohersed into making payback by creating a home porn video that could be sold to pay back some of the debt. It's done with finesse and opportunity but its also clear that it's how the market is kept in motion. The camera team and director in the course meet all sorts of shady, bizarre and violent individuals along the way that reveals the scene for what it is under the our noses on a daily basis. In a bizarre encounter which has the team visiting a local drug supplier, they happen to encounter a buyer who's high on smack. As he interrupts the interview he begins to annoy the camera man into an exchange of words that is nothing short of surreal. The drug addict caught in an obvious Muttering of nonsense continues on in this discussion that last for about 5 minutes on camera. It's comedic in nature and also quite mind numbing to listen to. As he darts away to use the rest room, it's clear that he's not retuning when he passes out and dies in the process. The team now faced with getting rid of the body continue to film as they place the addict in a local park.
Everything is caught on tape, and seems to be supported by the talent on camera. Ray who's reluctant at first agrees to let them keep film in in exchange for a commercial favorite that he's in need for his property management. As a viewer, that notion seemed to allude me at first as to why these obvious crime lords would agree to such coverage. Though the film reveals itself in the process that has the crime lords actually manipulating the filmmakers in it's unveiling. It clever, smart and unsetting all rolled into one.
Barry, who seems to go with the flow of his film project begins to suspect that things are going too deep even for his project. Ray continues to provide opportunities that seems to also fuel his ego for being seen on screen. Tommy becomes darker and darker thru his dealings and obvious clever exchange of instances. It's a documentary film that becomes a film in itself heading down avenues that most never get a chance to see or become privy to. Directed by Michael Booth, the film provides an engaging direction that pulls you in with every frame. Special mention goes to writer Jonathan Williams and his unique script that captures a truly scary side of life with a motive in mind. Joe O'Byrne who plays the role of Tommy Morghen provides the acted highlight of the film with cunning and a convincible nature that works extremely well for Bad Lad. It's horror in a different light with a range of extremes that don't overpower but hit you with a brick when they arrive.
WEBSITE: http://www.badladthemovie.com
Originally published here: http://horrornews.ne…a-bad-lad-2010/
The Independent Critic Review by Richard Propes (B+)
Beautifully lensed by Paul Gordon with stellar musical accompaniment by Simon Auster, "Diary of a Bad Lad" is a prime example of the innovative, uniquely imagined films being brought to life in the vibrant world of independent film. Here's hoping that that "Diary of a Bad Lad" opens doors for its entire cast and crew and, as well, for other underground U.K. filmmakers. One is never completely sure.
The film rests on the solid acting shoulders of Joe O'Byrne as Tommy Morghen, a man so deliciously evil that you'll want to invite him over to dinner but you'll make sure your weapon is fully loaded before you do. Similarly, screenwriter Jonathan Williams does double duty in portraying the film maker, Barry Lick, a man who is either completely and utterly clueless or he isn't. There are films that you refer to as dark comedy, and then there are films that are pure, unabashed jet black comedy.
"Diary of a Bad Lad" is a jet black comedy, a no-holds-barred example of what we Americans might call guerilla film making that would be right at home in virtually any underground film festival in any part of the world. Even as a bloody American film critic who couldn't quite grasp the meaning of every word spoken, I found myself hanging on every word of virtually every character in the film, a testimony to screenwriter Jonathan Williams' ability to create complex, multi-layered characters out of even his supporting characters. So, too, Booth gives each character ample screen time to bring their personalities to life and make us hate them or, well, hate them.
A product of the ever so slight no-budget filmmaking movement in Northern U.K., "Diary of a Bad Lad" takes its low-budget and makes it work with a faux documentary style that is unnerving, unsettled yet hypnotic to watch. While there's no denying the film's modest production budget holds it back just a bit, more often than not director Michael Booth makes it work with fantastic results that are equally disturbing and unforgettable. You'll have to check it out for yourself. What happens in the end?
The businessman, whom Lick names Ray Topham to protect his identity, is surrounded by such associates as his local cocaine supplier and an S&M actress named Joanne Miller and his security associate, the gloriously evil Tommy Morghen. Rather quickly, everyone involved in the film quickly catches on that Lick is in over his head and set out to take advantage of his ignorance, often with both funny and tragic results.
I won't pretend that I understood every word that was spoken in "Diary of a Bad Lad," a raw, intense film with lively performances and in your face camera work about a frustrated film maker named Barry Lick who sets out to make a documentary centered on a local businessman he believes to be involved in a variety of illegal transactions ranging from prostitution and property rackets to drugs and pornography.
Grade B+
The Independent Critic
Originally published here: http://theindependentcritic.com/diary_of_a_bad_lad
The List Review by Stephen Carty
Before you delve into this seedy world of drugs, pornography and prostitution, take heed that it's not real. Clearly inspired by 1992 faux-documentary Man Bites Dog (also about a fake film crew filming gangsters), director Michael Booth and writer/star Jonathan Williams' no-budget mockumentary feels so realistic you wouldn't know the difference if you switched on midway through.
Williams plays the interestingly-named Barry Lick, a suspended college film lecturer who decides to make a movie about Blackburn's crime scene. Persuading local gangster Tommy Morghen (Joe O'Byrne, excellent) to let him film the various dodgy goings on, it's not long before Lick is way out of his depth.
Interestingly amoral, intense and unnerving, Diary of a Bad Lad may ultimately be a victim of its budget but is still worth seeking out.
Originally published here: http://www.list.co.uk/article/28861-diary-of-a-bad-lad/
Rushes Review by Jake Stephenson
Sometimes the best things come when you least expect it, like when you find a tenner behind the sofa, or you take your clothes to the checkout and they price it up wrong. Diary of a Bad Lad paints itself as a serious documentary attempting to delve into the ghastly reality that is the Lancashire underworld, but in actual fact, the film is anything but.
The film begins with the director describing his first encounter with a 'gangster' and this, along with the opening 10 minutes of interviewees who claim to have worked with the local gang leader, seem very real. However as the ramshackle crew get closer to the dark innards of the criminal underworld, the more the film from a realistic documentary, to a darkly humorous piss-take of how obsessed our media is with drugs, sex and violence.
As the cast and crew are slowly sucked into the immoral life style, and as they so desperately strive to make a worthwhile film full of drugs, sex and violence, what they will do to get those shots becomes more and more ridiculous.
The acting in particular should be praised, as nearly everyone in the film gives a very credible and lifelike performance, allowing the film to cross from reality to mocumentary almost seamlessly.
An all completed on a budget of £3,500; director Michael Booth is definitely a man to watch.
Pros: A superbly written film backed up by believable performances, which together take the audience on a gritty but very funny ride.
Cons: On a few occasions the acting slips below par, and compared to the rest of the film the ending seems a bit rushed and aloof.
In Summary: This film was made so much better by the fact that I didn't know anything about what it was going to turn into, unlucky for you guys you now know…and for that I am sorry.
Words By Jake Stephenson
Originally published here: http://film.falmouth.ac.uk/2010/06/diary-of-a-bad-lad/
Geeks.co.uk Review by L. Blain
A very, VERY Bad Lad!
Shot as a documentary, British independent film Diary Of A Bad Lad is the journey of film maker, Barry Lick, (Williams) who wants to make a sensationalist crime documentary. Fascinated by local business man come crime lord, Tommy Morghen (O'Byrne), he focuses the work on him. An ex university lecturer, Lick employs a group of his students as a crew and journeys into a world of prostitution, drug trafficking and pornography. Unknown to the film crew, Morghen has plans for them and very quickly they are far out of their depth, in situations they could never have imagined.
A mock documentary or 'mockumentary' is always an intriguing prospect. It is difficult to tell where reality stops and fiction starts so it is often confusing and disorienting. Diary Of A Bad Lad also seems to be going for the shock treatment; does this make it also a shockumentary? Who knows, but the journey is an interesting one if not to everyone's taste.
Including graphic scenes of violence, drug use, pornography and rape, this film courts controversy and at times it all feels deeply unpleasant and a bit unnecessary. A little bit of the 'less is more' school of thought would have gone down a treat on a number of occasions. With such variation in tone between scenes, some pitch black comedy and others just plain shocking, there are points in the film that can certainly be deemed offensive as the intention is clearly just to shock and disgust alone.
The performances in the film are astonishing. For a mockumentary to work, performances have to be off the cuff, natural and mostly improvised. The cast certainly takes up this challenge and it is hard to fault their naturalistic performances. It is often unnerving and sickening that although these characters have been created, their real life counterparts exist somewhere not too far away. The style of the film maintains a constant grimy feel with colours washed out and dull. The camera, sometimes handheld or hidden inside a bag, is an eye looking onto a corrupt and immoral world.
As previously mentioned, the tone of the film is unsteady. Pitch black comedy whispers in some scenes yet others are deeply serious. Controversial but lacking in true substance, it skates on the thin ice of indecency and creates an unsettling atmosphere which is put to no good use. The performances are excellent but seem somehow wasted. Certainly an interesting piece with flair but its content may be too unnerving for most.
Originally posted here: http://www.geeks.co.uk/review/film/23750-diary-bad-lad-michael-booth.html
Brutal as Hell Review by Ben Bussey
Blackburn, Lancashire; to most minds, a fairly innocuous city in north west England, that few people would even have heard of were it not for John Lennon's reference to it in A Day In The Life. But, as is ever the case, there's a lot of dark and dirty business going on beneath the sleepy exterior, and media studies teacher Barry Lick (Williams, also the screenwriter) and his crew of inexperienced students set out to expose this dark underbelly by making a documentary about some rather dubious local businessmen, Tommy Morghen (O'Byrne) and his superior, referred to under the assumed name Ray Topham (Miller). Naturally it's not long before their DV tapes are overflowing with drugs, porno and violence. All great material for fledgling filmmakers, even if they are in way over their heads – but just who is using who?Here's the first thing I suggest in approaching Diary of a Bad Lad: completely disregard the terrible title. It's cheesy, it makes little sense (who is the 'bad lad' in question, Tommy or Ray?), and it implies a brand of gangster film that has long since gone stale, Britain having pumped out untold numbers of them in the wake of Guy Ritchie's first two efforts. All of which is a shame, for this film is considerably more intelligent and powerful than that. Doing the pseudo-documentary approach far better than most in recent memory (Zombie Diaries, anyone?), this is a sophisticated, layered and often genuinely disturbing film about the insidious nature of crime, and how hard it is to get out of once you're stuck in its web. Lick and his young crew not only document how the criminal underworld sucks in those they capture on film, but how it sucks in the filmmakers themselves: cameraman Michael (director Booth) lured by the prospect of finance for his first feature; sound guy Birtie (Birtwhistle) attracted to the drugs, women and power; and Lick himself finding it cosy at the right hand of the throne.
The filmmaker characters are no-budget amateurs, so the actual film's no-budget amateur production values are entirely appropriate. Thankfully, the writing and performances are of a uniformally professional standard. For the most part, the unsuspecting viewer could be forgiven for mistaking this for a genuine documentary, and this is to the immense credit of the cast and crew. There are a number of remarkably tense sequences, not least of which is an interview with a spaced-out junkie that slowly escalates into an outright confrontation, with dire consequences. However, while the acting is superb all around, particular mention has to be given to Joe O'Byrne, who succeeds in making Tommy a truly terrifying character; not some caricaturish villian that we're so used to seeing in British gangster films, but a truly believable figure of fear, the kind of guy you might very well encounter doing dodgy deals and ruining lives in reality.
Despite a few slightly misjudged elements – an overlong riff on A Clockwork Orange's high-speed sex scene, an unresolved subplot of a female crew member being seduced into the skin trade, and of course the atrocious choice of title – Diary of a Bad Lad is overall a shining example of how good no-budget indie filmmaking can be when the requisite work is put into it. Nor have they skimped out on the DVD, stuffing it with a great deal of extra material including a behind the scenes featurette, additional footage, and even a novel in the DVD-ROM section. Up and coming no-budget DV filmmakers, take note: this is the kind of standard you should be aspiring to.
Original review here: http://www.brutalashell.com/2010/06/dvd-review-diary-of-a-bad-lad/
Flickfeast Review by Kevin Matthews (7 out of 10)
The faux documentary, the perfect blurring of "fact and fiction", the mockumentary, label it what you will, that's what you get here with Diary Of A Bad Lad and I must say that it's a fine example.
The format can be used for a number of reasons, from amplifying horror to looking at media manipulation and distortion to examining the psychological effects of those being put under scrutiny to much more, and the best examples make you think long and hard about what you've just watched. Thankfully, this movie does just that.
It's all about a suspended media studies teacher (Barry Lick, played by Jonathan Williams) who, along with some of his students, decides to make a movie about a local businessman (Ray Topham, played by Tom Miller) who seems to have a hand in everything from drug trafficking to pornography to construction. While making the documentary they befriend drug-dealing Joanne (Donna Henry) and disarmingly charming Tommy Morghen (played fantastically by Joe O'Byrne). It's not long before events start to spin out of control while the camera keeps rolling but in an ongoing series of manipulated moments just who IS actually manipulating who?
Where Diary Of A Bad Lad scores so highly is in it's depiction of organised crime being run in a businesslike manner and given the facade of legitimacy. Before things get dark it's all so slightly tempting, so seductive and so . . . . . . . . well, not too bad as long as nobody's actually getting hurt. Right?
It's also very effective in it's portrayal of the men involved in this kind of thing. Nobody here really has to shout or fly off the handle. These are scary people who do scary things and they don't need to use a megaphone for people to get the message loud and clear.
The documentary crew are a likeable enough lot. Jonathan Williams (who also wrote the smart screenplay) plays the obsessive director pretty convincingly while Paul Birtwhistle, Roxanne Gregory and Michael Booth all do well. Birtwhistle's character may be a bit of a jerk at times but he's a believable jerk and simply puts on an act as a bit of a lad when he doesn't feel out of his depth (no offence to the actor, it's intended as a compliment). Then we have the two main contacts that the film crew stick with and they're played perfectly by Henry and O'Byrne. In fact, O'Byrne is so good in his charismatic performance that I'd be a bit nervous about meeting the man in real life. Not one part of his performance feels fake and it's his work that really catapults the film into the good, almost great, category.
Sadly, one or two performances don't ring as true. Tom Miller isn't really that interesting as Ray and that's a shame because it's his character that kickstarts the whole chain of events (so you'd expect him to be something special, surely). Then we have James Foster and Carolyn Mason as a young, married couple with financial difficulties. They have some of the more difficult, awkward moments (and, to be fair to them, they're exceedingly brave as they act out some very raw footage) but their interaction with Morghen and the crew never feels natural and "real".
Having said that, it's just another facet of the movie that starts you thinking about just what you're watching and how realistic it all should be. Referencing films as impressive as Man Bites Dog and A Clockwork Orange, the moviemakers clearly know their stuff and can tip a sly nod to those looking out for such little references but this is about much more than a faked doco-drama for entertainment.
Director Michael Booth and writer Jonathan Williams deserve a lot of praise for such a smart, layered movie. Looking at media manipulation (with a highlight being one scene involving an airport and a recreation of a standard drug-smuggling scenario) and the rather scary impartiality of those who point and shoot with a camera alone, Diary Of A Bad Lad actually does manage to have it's cake and eat it. The inclusion of homemade pornography? A scene set up, and included, for the express purpose of getting a young woman to show her breasts (apparently)? Filming the reaction to someone stumbling across a dead body? These are all moments that the documentary could have done without but that Barry Lick (and Michael Booth?) knows will attract audiences. And we, as audience members, know this too. Sadly.
The DVD copy I reviewed was a nicely packaged product with plenty to get through including: an extended intro by Tommy Morghen, a veritable feast of deleted scenes, "It's Documentary, It's The Truth" featurette, enjoyable bios of the cast and crew, video diaries and more. There are also easter eggs there (find titles 36-39, if I remember rightly. DVD-ROM content includes a text commentary that starts off with a brilliant comment regarding the BBFC and a 124-page novel. Good value supplementing a good movie.
Originally published here: http://flickfeast.co.uk/reviews/dvd-reviews/diary-bad-lad-2010/
News Shopper Review by Richard Firth (4 out of 5 stars)
MADE for less than £4,000, Diary of a Bad Lad is one of the oddest films I've ever seen.There's no emotional focus, the action veers all over the place and the dialogue is clunky – yet taking your eyes off it is impossible.
The plot follows a suspended college film lecturer and a motley collection of his students as they try to make a film about Blackburn's underworld crime scene.
Barry Lick, the moral-stripped teacher in question, provides a voice-over to the action, which takes the form of a documentary.
After much persuasion, local gangster Tommy Morghen allows Lick and his students to follow him around in his working life of security organiser, debt collector and general right-hand man to Blackburn's answer to Ronnie Kray, Ray Topham.
Between them, Morghen and Topham also run tidy little sidelines in pornography, drug trafficking and prostitution and Lick is keen to involve as much of those as possible in his film.
Inevitably, Lick's ambitions for his film clash with the ambitions of the gangsters with ruinous consequences for all concerned.
It's impossible to like Lick, whose insistence on keeping the camera running in the most shockingly inappropriate circumstances stuns even the students who are used to his unorthodox teaching methods (he's suspended from his job on full pay but we are never told what he has done wrong).
He obviously likes something about the people he's filming and the association has something in it for all the students – soundman Birtie likes the drugs and the women, cameraman Michael is promised money to make a horror film by Topham and crew member Roxy appears keen to get involved in pornography, though this strand of the story is never fully explained.
The most memorable scene in the film centres around a couple who are in rent arrears to the gangsters and who are persuaded to make a home-made sex film to help offset some of the debt.
Their efforts are hilarious but ultimately successful – we learn later that the wife has gone to Amsterdam for unspecified, but obvious, reasons.
On the down side, some of the scenes are overly long and the apparently improvised dialogue doesn't always appear natural.
But for what they spent on it, this is a mesmerising movie, full of tension and pathos, which proves you don't have to spend a fortune to make a truly memorable, original film.
Diary of a Bad Lad is released on DVD on Monday, June 28. Go to badladthemovie.com
Originally published here: http://www.newsshopper.co.uk/leisure/8239181.DVD_REVIEW__Diary_of_a_Bad_Lad_____/